Eating healthy in Iceland can be quite tricky. Indeed, you can't get much from a grocery store, as they can't get their hands on many fresh fruits and veggies, and as the healthy trend hasn't taken up on the market quite yet – though it's worth mentioning they've got a few healthy brands and they make an effort to display a healthy shelf with From or Biona products, not bad!
As everything is crazy expensive there – not just the food, everything – we camped all the way across the country, so we had to cook up something very basic from scratch everyday with what we had bought in the supermarket. So food wasn't that exciting at all, especially for me, as I am always in the kitchen cooking something new with all my fresh produce, spices, seeds and so on.
However, Reykjavik is definitely full of gems when it comes to food. You've got to be prepared to break the bank to get there but after 10 days camping in the wild with bland food, let me tell you it's totally worth it! Here are my favourite spots that I found on the so well curated app Handpicked Iceland, which I highly recommend to anyone traveling there!
Glo
Glo is the restaurant of Solla Eiriksdottir, the local veggie cook author superstar. I actually got her book which is beautiful so I had planned to go there even before taking the plane to Iceland. I was so excited to taste her food! The concept is easy: you choose a main course and a side of salads, which you have to pick from the daily selection. Both times I went, I had the soup of the day with raw crackers, which were delicious everytime. The side of salads was not as tasty as I had fancied – don't know why, maybe because of the dressing which was too spicy for my taste? – but it was a blessing when I went back there after 10 days of camping!! My boyfriend had the avocado rolls the first time, and the vegan lasagna the second time, which were really good! The only thing I found is that they're maybe too generous with the spice in their dressing. But that's a matter of taste and I'm sure most people love that. Oh and one last thing: there's free hummus!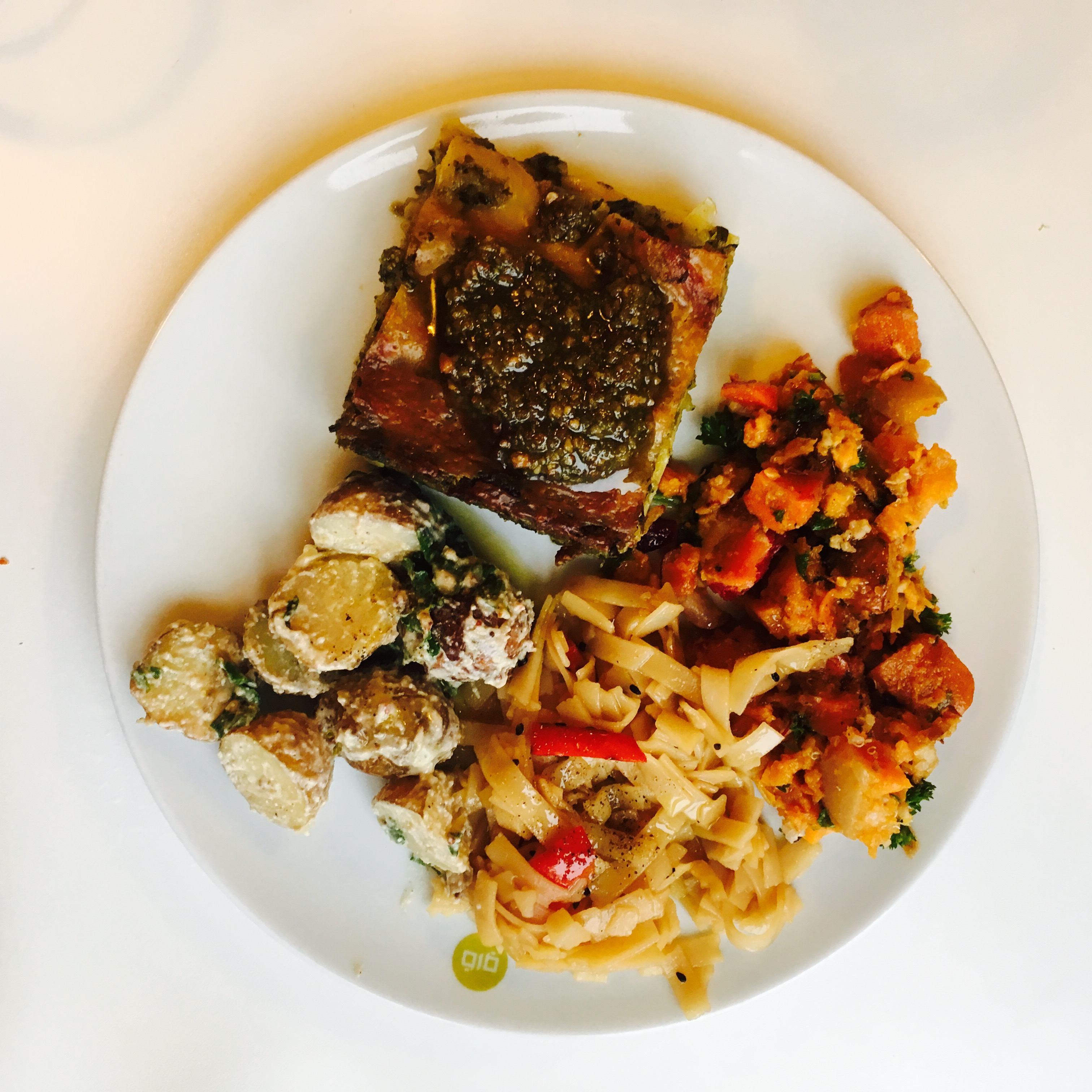 Sisterhood Café – Systrasamlagid
What a gem! I'm totally addicted to healthy cafes, especially the multiple ones we can find in London and Paris. So I was ridiculously happy to find this place, which was actually recommended to me by a lovely Californian I met during my trip in Iceland. It seems they are the pioneer of the budding health and wellbeing industry as I'm pretty sure it's the only place like this in the capital – and probably in the whole country. It's a tiny shop in the city centre, where you can find all sorts of goodies, from yoga mats to organic make up, essential oils and turmeric supplements. If you go to the back of the shop, there's also a cafe where you can get matcha lattes, turmeric lattes, chia puddings, nicecreams, raw cakes and all sorts of vegan treats! I couldn't be happier! I went twice and both times I had the turmeric latte, because it's my favourite drink ever, and also because I got ill at the end of the trip and that's the best immune-boosting & comforting thing in the world! I must say it's the best golden mylk (both in taste and look) I had in my life!
Bio Borgari
Literally the best burgers I had in my life. This tiny hipster place is another gem. They make two kinds of organic burgers, and for each kind you can choose the regular meat version, or the vegan option. We went three times (yes, it was that good!) and we were never disappointed. Of course I went for the vegan option, which came with a bean and vegetable 'steak' and my boyfriend went for the meat version. They're so good not only because of the amazing quality of ingredients (local and organic), but also because of the super original recipes! There was homemade herb pesto, pickles and different sauces which made them really out of the ordinary, not to mention the bread which was excellent. And the music was on point! I couldn't recommend this place enough.
Bergsson 
How nice was this place! Or should I say 'these' places: they've got one near the city hall, and another one on the marina. Both are amazing, with great service and good food (it is worth mentioning it's relatively affordable for Iceland, considering the quality). You can choose from a variety of courses, either meat, fish or vegetarian/vegan. We brunched there once, and we also had dinner, and lunch (when we love a place, we go there several times, I know we're creatures of habits haha). I think the photos talk for themselves, it was delicious every time! And in both locations, you get free hummus, yay!
Matur Og Drykkur
And finally, the best restaurant in Reykjavik! This is not a vegetarian/vegan place. It's a fish place, located on the marina, in an old fish market place – I love me a good fish from time to time. If you want to treat yourself to amazing fish, you should definitely go there! For approximately 20-ish euros, you get fine dining plates with super fresh fish, so well-cooked and seasoned. From cod to red fish to wolfish and seaweed crackers, YUM. A real treat after camping!