'Our promise to you is to deliver the freshest, organic, chemical free cuisine prepared using techniques and ingredients that maximise optimal nutritional health.
Food to heal and nourish the body respecting both nature and provenance.
We believe that FOOD is medicine.'
This is their motto and it's totally up my street! It had been so long since I kept hearing good things about this place with principles that I totally agree with, such as 'we believe that food is medicine' (yes!!) that I had it in my restaurant to-do list for too long!
Farmacy is a healthy restaurant in Notting Hill, in charming Westbourne Grove, where all the nice shops and healthy places are located. So Farmacy fits perfectly into this cute street, but it also has a unique style. What I mean is that it has nothing to do with a 'traditional' healthy restaurant in the sense that, first, it's really big. The surface area is really nice, the ceiling is really high, and you have a lot of space. That gives such a nice atmosphere to the place. Moreover, plants are everywhere. Literally everywhere! And plants make me happy so I couldn't be better off when I entered the restaurant. And then, they designed the place as if they were making a fancy restaurant, with really nice flooring, tables and a really good-looking bar. Overall, you wouldn't know you'd be in a healthy restaurant if it wasn't for the menu, and that's really nice! Don't get me wrong, I love quirky and tiny healthy restaurants, the atmosphere is really special there and I feel completely at ease. But it is nice sometimes to get into another environment. And if it can sell healthy food to 'fancier' people, I'm all in!
Let's have a look at the menu now: trust me, it's a healthy food enthusiast heaven! There is something for everyone, and there's nothing seeming 'weird' (for traditional western diet omnivores I mean), which will convert anyone to this kind of food. And that's a good thing! What really caught my eyes was the earth bowls category where you can find what I could describe as buddha bowls with a bit of everything – legumes, cooked and raw vegetables, grains, seeds and cereals – like the green egg bowl, the Mexican bowl, the Middle Eastern bowl and the macro bowl. But everything else on the menu looks so yummy: amazing salads and starters, soups, dahls, curries, and even pasta and pizza! Also, little signs let you know for each thing if it is raw, vegan, gluten free or nut free, which is very handy.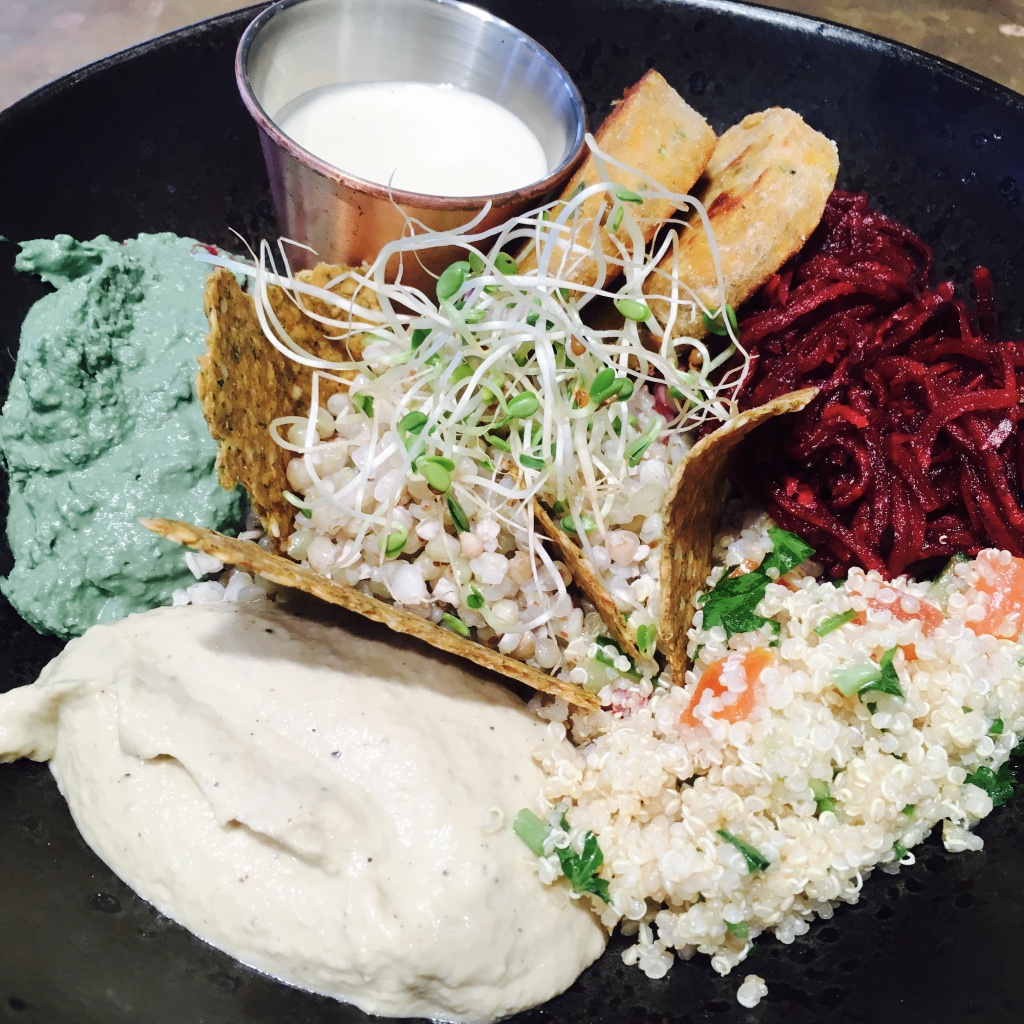 If you had a glimpse at my Instagram account, you would know what I chose… the Middle Eastern bowl of course (that's my favorite cuisine!) which had the best babaganoush I ever had, some kind of hummus which was so lemony and tasty, a raw beetroot salad, a herby quinoa salad, some sweet potato cakes, a delicious tahini sauce and seedy crackers. I was a bit disappointed when the plate came because I thought the portion was not so generous, but oh my word… this was sooooo good, so tasty and so satisfying that this was just enough!
I'm so gutted that I came alone (yes, I go to restaurants alone sometimes!), otherwise I would have had the chance to taste more than just one dish! One thing I now for sure is that I'll definitely come back more than once, and also for breakfast because de menu is to die for. Just think about probiotic parfait jars, chocolate chip warrior waffles, rawnola… oh my… I want everything! I would also love to try the 'farmaceutical syringe shots' which are basically superfood shots in the form of a syringe that you put into your mouth! I can't wait to go back there!